New SsangYong Tivoli Safety
The basis of a vehicle's safety is its monocoque structure – both how it's made and how it responds on impact. SsangYong's engineers have made extensive use of high strength steel to construct a rigid passenger cell.
New Tivoli is equipped with 7 airbags (not EX) for maximum passenger protection on impact – the most in its class. These include a driver's knee protection airbag – a feature normally found in prestige vehicles.
The combination of a substantial structure, latest smart safety aids and electronic driving aids give new Tivoli an outstanding safety performance that scores 4 stars in the latest most demanding Euro NCap test.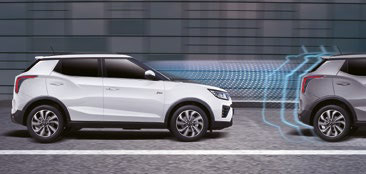 Forward collision warning & autonomous emergency braking
Evaluating data from the vehicle's on board camera, Forward Collision Warning (FCW) can detect a potential collision with a vehicle, pedestrian or obstacle. If a collision appears imminent FCW will warn the driver, and if there is insufficient response Autonomous Emergency Braking (AEB) will intervene with appropriate braking force to stop the vehicle or minimise damage.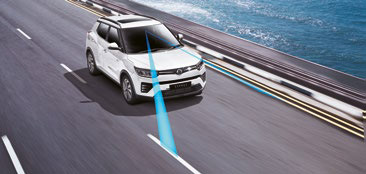 Lane departure warning & lane keeping assist
Lane Departure Warning (LDW) is designed to alert the driver that the vehicle is about to deviate from a traffic lane. Lane Keeping Assist (LKA) then helps the car stay toward the centre of the lane by applying a small amount of counter-steering force.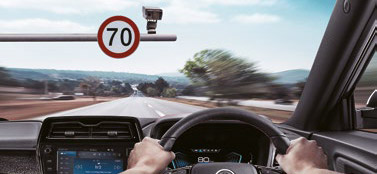 Traffic sign recognition
The system recognises speed limit signs and provides the driver with an on-screen warning reminder.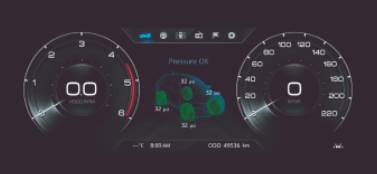 Tyre Pressure Monitoring
Continually monitors the tyre pressures of all four wheels and advises when to inflate or if a puncture is detected.
Active safety
E S P
ELECTRONIC STABILITY PROGRAMME
The electronic stability programme monitors road conditions and vehicular status constantly, adjusting engine output and braking whenever the driver is about to lose control. The ESP integrates the anti-lock brake system, active rollover protection, anti-slip regulation and brake-force assist to improve Tivoli's intervention capabilities.
---
E B D - A B S
ELECTRONIC BRAKEFORCE DISTRIBUTION ANTI-LOCK BRAKE SYSTEM
Brake force is distributed appropriately to the front and rear wheels according to the load of persons and/or cargo.
---
B A S
BRAKE ASSIST SYSTEM
When this electronically controlled system senses the driver applying emergency braking it assists by applying maximum braking effort automatically to reduce the vehicle's braking distance and to help avoid an accident.
---
T P M S
Tivoli has tyre pressure monitoring built into its electronics. Monitored through the trip computer, each tyre is continually checked for pressure with the driver immediately warned of unsafe inflation.